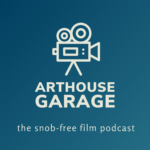 A Gateway into Arthouse Cinema
I asked filmmaker Andrew Camarillo to pick a good movie for arthouse newbies, and he chose Charlie Kaufman's incredible 2008 film Synecdoche, New York. This movie is challenging! But I think it's a great example of a film that is also incredibly rewarding if you give it the time, and get on it's level with what it's trying to say.
Plus, Drew and Andrew (Sweatman) discuss weird movies.
LINKS
Roger Ebert on the best films of the decade (Synecdoche is #1)
OUR SPONSOR
Apauling Productions
CONNECT WITH US
Andrew's Letterboxd: letterboxd.com/asweat08/
Drew's Letterboxd: letterboxd.com/drewfoote91/
Email us at Andrew@ArthouseGarage.com