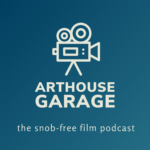 "Remember me? I'm the fella you slept on last night."
In this episode, Andrew is joined once again by classic film genius Rance Collins who helps break down It Happened One Night, one of the very first romantic comedies and the beginning of our new classic cinema series! Rance explains why this pre-code Frank Capra classic from 1934 continues to be such a big deal. It stars Clark Gable and Claudette Colbert and features several iconic moments. Whether you've seen it or not, tune in to learn all about it.
We also give our thoughts about last week's surprising Oscar winners and recommend the Spirit Awards.
Season 3 Lineup
It Happened One Night
Casablanca
All About Eve
Double Indemnity
The Best Years of Our Lives
Citizen Kane
LINKS
Criterion Trailer for It Happened One Night
Photo of Shirley Temple presenting the Oscar to Claudette Colbert
Pictures of Claudette Colbert through the years on Wikipedia
Video of Clark Gable winning the Oscar
Adam Sandler wins Best Male Lead at the Spirit Awards
Rance's Oscar podcast, The Envelope Please
Rance's politics podcast, The Resist Report
CONNECT WITH US
Email us at Andrew@ArthouseGarage.com