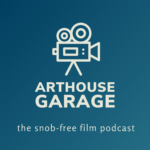 "I remember the first time I saw you as a person."
James Basham returns to the podcast to talk about Sofia Coppola's latest, On the Rocks. This film stars Rashida Jones as Laura, a woman who is concerned about her husband's faithfulness and trying to manage her relationship with her father Felix, played by Bill Murray. Murray shines as a larger-than-life New York playboy who's charming as hell but also out of touch with modern society in many ways. Streaming now on Apple TV+.
Read a full episode transcript here.
Links
CONNECT WITH US
Email us at Andrew@ArthouseGarage.com
Subscribe to the monthly email newsletter: arthousegarage.com/subscribe