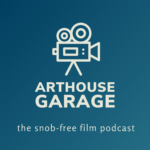 "You're a wolf when you sleep and a girl when you're awake."
The beautiful animated film Wolfwalkers is the subject of our discussion on this episode. It's a film about a young girl finding her place in the world who gets mixed up with some mysterious wolf walkers– humans who can transform into wolves– and finds herself at the center of the conflict between man and nature. The film comes from the Irish animation studio Cartoon Saloon, from directors Tomm Moore and Ross Stewart, and stars Honor Kneafsey, Eva Whittaker, and Sean Bean.
I'm joined on this episode by filmmaker and animator Eric White, director of several short films and animator for Arkansas's local PBS station, AETN.
Read a full episode transcript here.
LINKS
Trailer for Wolfwalkers on YouTube
Blueberry's Clubhouse, season 1 – YouTube
More info on Blueberry's Clubhouse
CONNECT WITH US
Email us at Andrew@ArthouseGarage.com
Subscribe to the email newsletter: arthousegarage.com/subscribe
Theme music by Apauling Productions