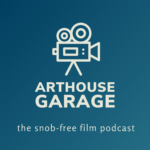 Free Online Film Festival May 26-30
Today is a special BONUS episode about the upcoming Made in Arkansas Film Festival, which is a free online festival coming up May 26-30. Festival programmer Kerri Michael joins Andrew to talk about the festival, the decision to "go virtual," and the exciting films they're screening this year.
Come learn about the event, how you can attend, and what to expect from this creative and locally-sourced festival.
Links
Tune into the festival on the facebook event here
CONNECT WITH US
Email us at Andrew@ArthouseGarage.com
Store at ArthouseGarage.com/shop