Martin McDonagh is back in the awards conversation this year with his new film The Banshees of Inisherin, which also reunites him with his In Bruges stars Colin Farrell and Brendan Gleeson. After his previous effort, the Oscar-winning Three Billboards Outside Ebbing, Missouri, Banshees also sees McDonagh returning his powers of writing and directing back to Europe, and specifically to Ireland— and what a deeply Irish story it is.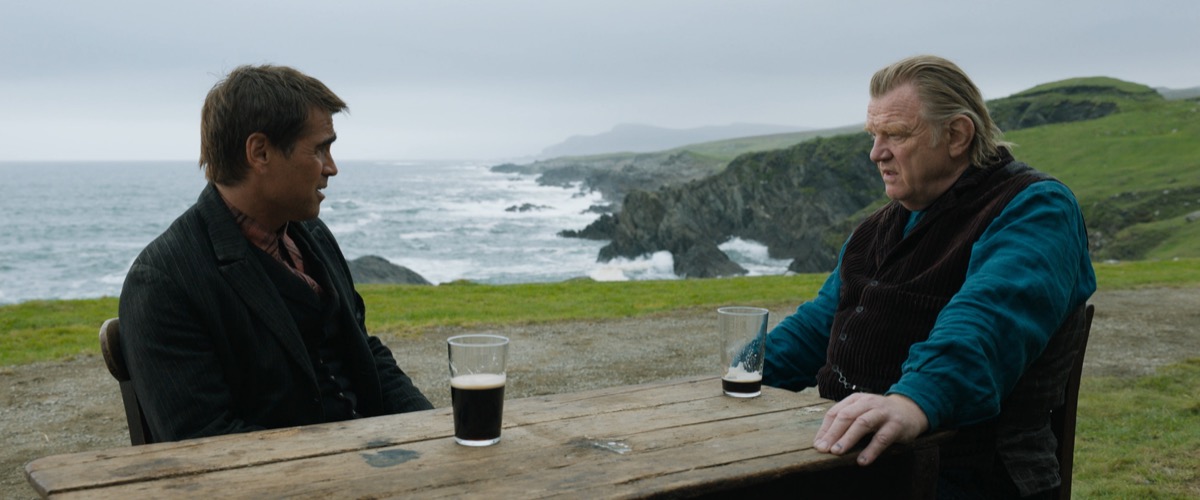 For one thing, the characters in the film almost never leave their home, the fictional island of Inisherin. Our protagonist Pádraic (Farrell), listens to the nameless wars raging across the sea, and he wonders who is fighting and why, but his life is largely unaffected by the seemingly never-ending battles in the distance. The community is small and isolated, and everyone knows one another. So, when Pádraic's best friend Colm (Gleeson) suddenly and inexplicably decides he doesn't like Pádraic anymore and doesn't want to remain friends, the news of their falling out spreads quickly.
This film is riotously funny, thanks in large part to its two stars as well as supporting actors Kerry Condon and Barry Keoghan, all of whom are wonderful every second they are on-screen. Again tapping into its setting, this film finds so much of its humor in its immersive use of Irish vernacular. McDonagh clearly has a love for language, and The Banshees of Inisherin makes beautiful use of dialects and idioms. As an unabashed linguistics nerd, this film had me giddy.
As mentioned, all the central performers are doing great work here, but I especially want to single out Colin Farrell. His comedic energy doesn't wane for a second. I've also never seen him this boyish and fresh-faced, so thoroughly embodying a wide-eyed and charming naïveté that it's easy to forget he's acting. It seems impossible that this is the same performer who gave us the mild-mannered father in this year's After Yang and the loudmouthed Penguin in The Batman. Is this the year of Colin Farrell?
I wasn't a fan of McDonagh's previous film, Three Billboards. Its handling of race was quite troubling, as was its inclusion of ableist language without any purpose other than shock value played for laughs. McDonagh clearly enjoys finding humor in pushing the envelope, which isn't necessarily a problem, but my experience with Billboards was that he was too careless with potent subject matter. That 'shock and awe' approach to humor is also present in The Banshees of Inisherin, but to a far less degree, and it isn't enough to detract from an otherwise wonderful film.
There are only two such moments that I noticed. In one scene, two characters accuse each other of being gay, and get angry at one another's accusations. This isn't even particularly offensive— it just feels outdated and was one of the few jokes in the film that flopped. The other instance is a bit of a spoiler, so I'll be vague, but it involves Barry Keoghan's character Dominic and his father, and it makes a punch line out of something incredibly dark. I found that moment in poor taste, but the information it reveals surprisingly does come back and affect the story by the film's ending. So, the moment isn't as needless as it initially seems, but I still take issue with provoking an audience to laugh about something so traumatic.
Those moments aside, The Banshees of Inisherin is excellent, and incredibly successful at striking a darkly comedic tone. Though initially the film seems light-hearted and even gentle, it gradually morphs into something much heavier, with a few story beats that left me genuinely upset. Brendan Gleeson's Colm, unable to escape Pádraic's constant and earnest attempts to mend their relationship, goes to shocking lengths to be left alone. The Banshees of Inisherin is a fable, and its outlook on life isn't a pleasant one. The film ruminates on the ways that humans are doomed to fight with one another and to take things too far, and questions whether some divisions will ever be healed. So yes, The Banshees of Inisherin is hilarious, but the comedy belies a fundamentally pessimistic film, full of dark observations on the human condition. Rarely has a film had me laughing so consistently and so boisterously, and left me feeling so depressed when the credits rolled.