2022 has come and gone, and the year certainly gave us some wonderful films. I initially published my favorite films of the year in podcast form, in a 2-part Best of the Year podcast. Listen to that for more detail on why I loved each of the films listed below.
Click here to listen to The Best Films of 2022, pt. 1
Click here to listen to The Best Films of 2022, pt. 2
Without further ado, here are my ten favorite films of 2022:
10. The Wonder
It's no secret that I love a film about faith and doubt. So, when I went into The Wonder knowing nothing apart from my love for director Sebastián Lelio's previous work, I was pleasantly surprised that religious themes take center stage. The story, set in the 1800s, follows Lib (Florence Pugh), an English nurse tasked with watching Anna (Kíla Lord Cassidy). Anna is a young girl who lives in a small Irish village, and she has supposedly not eaten for months, sustained only by her faith.
Lib watches Anna by day, and a nun by night, and they report their findings to a board of men from the village. What follows is a surprisingly rich meditation on religiosity, faith versus science, and the stories we tell to each other and ourselves. That would have been enough for me to connect with it, but bolstered by a typically amazing Florence Pugh performance and an ending that was both satisfying and sophisticated, The Wonder comes in as my #10 of the year.
9. The Good Boss
The Good Boss came out in Spain in 2021, and even qualified for Oscar consideration as Spain's 2021 submission to the Academy, but it wasn't released in the U.S. until August 2022. As such, I consider it eligible for this list, and I hope to raise some awareness of this powerhouse of a dark comedy that went largely under the radar for most American moviegoers.
The film, from Spanish writer/director Fernando León de Aranoa, features a pitch-perfect Javier Bardem as Julio Blanco, the owner of a manufacturing company that produces industrial scales. Bardem manages to create a character that is at once irresistibly charming and thoroughly repulsive.
The film, which won Spain's highest film prize at the 2021 Goya Awards, is a tightly plotted comedy of errors, following Bardem's Blanco through a particularly stressful week. Blanco strives to create a "family" atmosphere in the workplace, putting on a friendly face despite being corrupt and power-hungry, minimizing his own wrongdoing at every turn.
As he faces obstacle after obstacle, we gradually realize just how sinister Blanco is, and the script provides plenty of surprises and smartly biting commentary along the way. The Good Boss is a treat— the rare film that manages to be dramatically entertaining as it prods and pokes the audience and critiques societal power structures.
[Read my full review of The Good Boss]
8. Poser
Poser, the new film from directors Noah Dixon and Ori Segev, immerses us in the indie music world of Columbus, Ohio. Our protagonist Lennon (Sylvie Mix) is consumed by the artists residing in the North District of the city, playing underground shows and dedicating their lives to their craft. At the beginning of the film, Lennon starts a podcast dedicated to "bands you've probably never heard of." The film is full of musicians, most of whom are playing themselves, and Lennon becomes completely obsessed when she encounters a band called Damn the Witch Siren, led by the charismatic Bobbi Kitten.
Tonally, Poser is a peculiar but hypnotic blend of energy and paranoia. The music of the film, and the way it's captured, is impressive throughout. The film's interesting title comes into play early on, as Lennon feels unqualified to be part of the scene, like she's on the outside looking in. The very nature of podcasting speaks to this tendency— rather than create, Lennon finds an outlet for her fandom that feels legitimizing.
Poser stands out as one of the strongest films released in 2022. Despite treading well-worn thematic territory, the film's engaging cinematography, immersive world-building, and energetic sound design make the film feel fresh from start to finish.
7. God's Country
When I sat down at the 2022 Bentonville Film Festival to watch God's Country, I didn't know I'd be seeing what would end up as my favorite film of the festival and one of my favorites of the entire year. I also had the great pleasure of meeting the film's director, Julian Higgins, after the screening and inviting him on my podcast. See the link below to hear our discussion of this film, and the short story it's based on.
God's Country is a Neo-western following Sandra (Thandiwe Newton), a college professor who lives in the scenic mountains of Montana. When a gruff pair of hunters ask to park on her property to hunt, Sandra refuses them. Things escalate. Gradually at first, but when Sandra is threatened, she decides to fight back.
What's most amazing about God's Country is its control of the audience. Without speaking down to us about the many timely political issues that are baked into the story, the film pulls us along on a taut thriller that feels it could explode at any second. Throw in a knockout performance from Thandiwe Newton and you have one of the most thrilling and powerful films I saw this year.
Listen to my podcast interview with God's Country director Julian Higgins
6. RRR
"Is RRR the most epic movie ever made?"
That's what I tweeted a few minutes after watching it, and I stand by it. This 3-hour film features prison breaks, tiger fights, and more explosions than you can count, playing like a Fast and Furious movie on steroids. The Tollywood epic, directed by S. S. Rajamouli, is also a work of historical fiction, imagining a friendship between historical figures Alluri Sitarama Raju and Komaram Bheem.
In reality, the two never met (as the film tells us in the opening title card), but the movie imagines a bromance between them fraught with backstabbing and secret identities. It all comes together into a fist-pumping, crowd-pleasing, bombastic anti-imperialist adventure filled to the brim with memorable moments.
The film isn't without controversy, though, and it's important to note that it has been accused of feeding the kind of right-wing Hindu nationalism that has been the impetus for Islamophobic violence in recent years. Like most American viewers, the Islamophobic elements went right over my head, which isn't to excuse them, but to say that the cinematic achievement of RRR stands either way. And while it would be nice to be able to wholeheartedly recommend this film without caveats, it's also true that history is full of films that are significant despite being socially or politically problematic. I can't deny the sheer artistry on display in the maximalistic romp that is RRR, and for that reason, I'm including it on this list.
5. The Banshees of Inisherin
I love a film that really works the vernacular. The Banshees of Inisherin is praise-worthy for myriad reasons, but I always think of the language first. It's not just the delightful Irish accents on full display, it's also just how strongly the words and phrasing feel of a particular time and place. We're steeped in it, and if that weren't enough, it's used for comedy. Stuffy dramas can be deeply Irish too, but in Banshees, writer/director Martin McDonagh shows his love for the Irish culture and vernacular language while at the same time making us laugh.
On top of that, the film features my favorite performance of the year from Colin Farrell, who plays Pádraic. The community on their island is small and isolated, and everyone knows one another. So, when Pádraic's best friend Colm (Gleeson) suddenly and inexplicably decides he doesn't like Pádraic anymore and doesn't want to remain friends, the news of their falling out spreads quickly.
This film is riotously funny, thanks in large part to its two stars as well as supporting actors Kerry Condon and Barry Keoghan, all of whom are wonderful every second they are on-screen. Though initially the film seems light-hearted and even gentle, it gradually morphs into something much heavier, with a few story beats that left me genuinely upset. Brendan Gleeson's Colm, unable to escape Pádraic's constant and earnest attempts to mend their relationship, goes to shocking lengths to be left alone.
The Banshees of Inisherin is a fable, and its outlook on life isn't a pleasant one. The film ruminates on the ways that humans are doomed to fight with one another and to take things too far, and questions whether some divisions will ever be healed. So yes, The Banshees of Inisherin is hilarious, but the comedy belies a fundamentally pessimistic film, full of dark observations on the human condition. Rarely has a film had me laughing so consistently and so boisterously, and left me feeling so depressed when the credits rolled.
Listen to our podcast on Martin McDonagh, Irish history, and The Banshees of Inisherin with Michael Dougherty
Read my review of The Banshees of Inisherin
4. Triangle of Sadness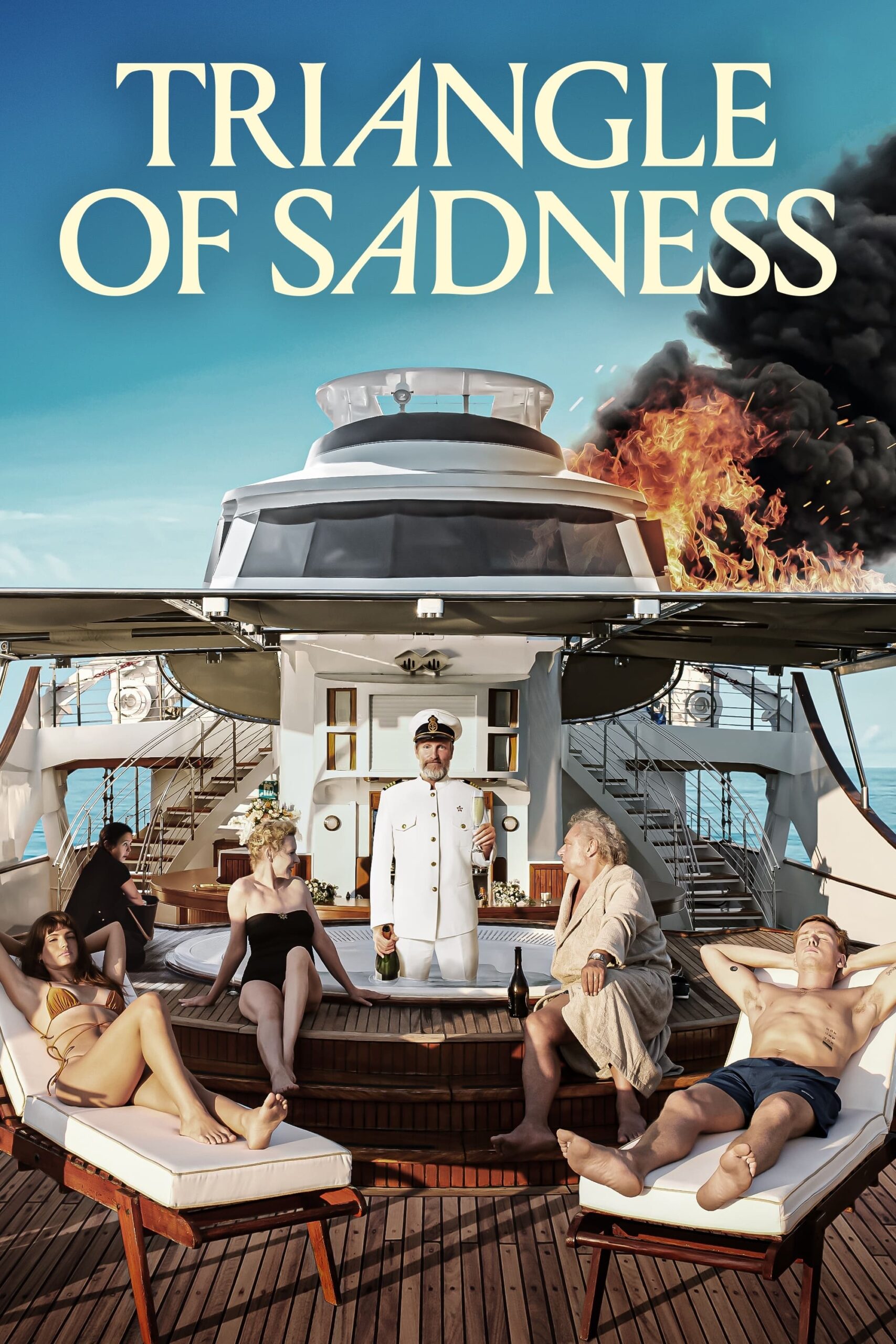 I'll be brief here and encourage you to see my full review at the link below, but I simply love how Triangle of Sadness upends expectations and flips social structures on their head. The film is consistently surprising and hilarious, and does much more than simply creating chaos (though it does that quite well). Writer/director Ruben Östlund brings real insights into the human condition and how we treat one another, especially across class divides. Plus, that cruise dinner scene will never leave my mind.
Listen to my podcast review of Triangle of Sadness
3. TÁR
The latest film from Director Todd Field is many things— a vehicle for a powerhouse performance from Cate Blanchett, a complex look at power dynamics in the modern world, and a fascinating character study of its lead. But it's also an absolutely thrilling piece of cinema. From the opening scene, in which we hear all about Lydia Tár's accomplishments while we watch her choosing a suit at the tailor and laying classical albums out on the floor in her home, there's an energy in this film that made it's 2 hours and 38 minutes fly by as I watched it.
There are many candidates for scene of the year in this film as well, from the Juilliard lecture, to Lydia's many manipulations of the people around her. And the ending of this film is absolutely perfect, providing a wonderful shock while asking its audience to consider: what does a happy ending to this story look like?
Listen to my podcast about TÁR with film critic Saxon Whitehead
2. After Yang
I watched Director Kogonada's first film, Columbus, a few hours before I took in After Yang for the first time, and I fell in love with his gentle, thoughtful approach to filmmaking. In Yang, Colin Farrell as Jake tries to fix their family's android (or "technosapien") and stumbles upon his vast collection of memories.
We watch as the family deal with the grief of possibly losing Yang, who is like a brother to young Mika, each remembering moments and interactions they've had with him over the years. This comes together into a lovely swirl of observations on life, belief, family, and loss, and one of the most emotional films of the year.
Listen to my After Yang podcast with Kristopher Pistole
1. Women Talking
Speaking of emotional, the new film from writer/director Sarah Polley is a fascinating look at a crisis of faith. The women in an isolated religious community discover that the men they live with have been abusing the women physically and sexually for years. Faced with this harsh reality, the women gather in secret to decide what to do.
With an incredible ensemble cast including Rooney Mara, Claire Foy, Jessie Buckley, Ben Whishaw, and Frances McDormand, Women Talking is a surprisingly close examination of faith, doubt, trauma, religiosity, patriarchy, and community. At its essence, the film is women in a room having serious conversation, but the story is also much more than that, inviting viewers to ask questions alongside its characters.
I had a profoundly moving experience watching this film (and later reading the book), and it's ultimately my favorite film of the year.
Listen to the two-part podcast:
113: WOMEN TALKING, part 1 – film discussion with critic Lindsey Dunn
114: WOMEN TALKING, part 2 – novel, film & faith discussion with Mattie Motl