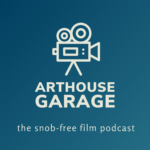 "They think I am hiding in the shadows… but I am the shadows."
A new, moodier Batman is here! Tune in to hear Andrew discuss the latest Matt Reeves-directed Batman film with guest Clayton Henderson. Clayton also gives a brief reaction to the Rogers Short Film Festival. After that, filmmaker Kristopher Pistole joins the show to break down the new film from director Koganada, called After Yang.
And then we finish up the series on faith and film with a very special guest. Filmmaker Rocky Roggio joins the show to tell us her story and talk about her film 1946: The Mistranslation That Shifted Culture, which is all about the word "homosexual" in the Bible, and whether it should be there at all.
Links
1946 Links
Connect with Arthouse Garage
Email us at Andrew@ArthouseGarage.com
Subscribe to the email newsletter: arthousegarage.com/subscribe
Try Opopop popcorn! Get 10% off your first order
Theme music by Apauling Productions