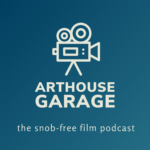 What's it like to make a documentary about your sister?
That's part of what Andrew discusses on this week's episode with director Brian Donovan, director of the beautiful documentary Kelly's Hollywood. October is Down Syndrome awareness month, making this the perfect film to discuss, as the film centers around Brian's sister Kelly, who has Down Syndrome. As a parent of two kids with Down Syndrome, Andrew is passionate about Down Syndrome advocacy, and that comes into the discussion with Brian in a big way as well.
This is part one of the interview, in which the discussion focuses primarily on the film and how it was made.
About Brian
Brian Donovan is the director/producer of the award winning documentary, Kelly's Hollywood, currently on Showtime Networks. The film is a very personal portrait of his relationship with his sister, Kelly, who was born with Down syndrome. One of his greatest joys has been screening and speaking about the film across the USA, creating awareness and advocating for those with special needs. He also created and produced the children's self empowerment show, Mighty Me Training Camp, a top title on Discovery Education streaming from 2008-20012.

Brian has worked as an actor for almost 30 years in hundreds of commercials and voiceovers as well as dozens of film and television projects with such Hollywood luminaries as Angelina Jolie, Jim Carrey, Gabriel Byrne and Jim Belushi. Television roles include the award winning Gia, Beverly Hills 90210, Sabrina the Teenage Witch and Wings. Currently, he is every kids taijutsu hero, Rock Lee in the world famous anime series, Naruto.

In addition, Brian is the Executive Director of the nonprofit Los Angeles Repertory Theatre, providing inner-city youth with performing arts workshops. He directed and produced their educational documentary, You Got Issues about one of their critically acclaimed workshops.

Brian lives with his family and dog Cosmo in Los Angeles, CA.
LINKS
Stream Kelly's Hollywood on Showtime
Kelly's Hollywood on Rotten Tomatoes
Kelly's Hollywood on Letterboxd
OUR SPONSOR
Riveter Solutions
CONNECT WITH US
Andrew's Letterboxd: letterboxd.com/asweat08/
Drew's Letterboxd: letterboxd.com/drewfoote91/
Email us at Andrew@ArthouseGarage.com