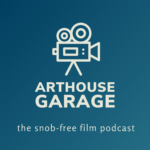 Buckle Up! It's going to be a bumpy night.
Rance is back for our third classic film discussion about the wonderful All About Eve, a landmark in cinema history from 1950. Bette Davis and Anne Baxter star in this character-driven tale of fame and jealousy about an aging theater star. This film won 6 oscars and was nominated for 14 in total, a record to this day. Rance helps break down the movie and the legacy of Bette Davis and the other stars, plus director Joseph Mankiewicz.
Andrew also gives a preview of the upcoming Hot Springs International Women's Film Festival.
Season 3 Lineup
It Happened One Night
Casablanca
All About Eve
Double Indemnity
The Best Years of Our Lives
Citizen Kane
Links
Rance's oscars podcast /The Envelope Please/
AMC Backstory on /All About Eve/
Hot Springs International Women's Film Festival schedule
CONNECT WITH US
Email us at Andrew@ArthouseGarage.com