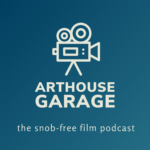 "How many times have we had to fall in love all over again?"
Rance Collins is back to break down another Best Picture-winner, 1946's The Best Years of Our Lives dir. by William Wyler. This film tells the fascinating story of three soldiers coming home from WWII and struggling to reintegrate to their families and society. It stars Myrna Loy, Dana Andrews, and Fredric March and it's a warm and lovely movie.
Rance & Andrew also give a little preview of the upcoming TCM Classic Film Festival: Special Home Edition, April 16-19th. TCM is doing a ton of special programming on their TV channel and online.
Links
The Best Years of Our Lives on imdb
TCM Film Festival: At Home Edition

Season 3 Lineup
It Happened One Night
Casablanca
All About Eve
Double Indemnity
The Best Years of Our Lives
Citizen Kane
CONNECT WITH US
Email us at Andrew@ArthouseGarage.com