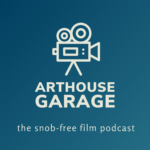 What does the 2020 pandemic mean for movie awards season?
Welcome to season 6! In this episode, Andrew is joined by Omaya Jones to discuss the beautiful new film Dick Johnson is Dead from director Kirsten Johnson (streaming now on Netflix). The movie is a hilarious and heartwarming documentary about aging and death and power of human connection.
They also discuss 2020 and how strange the movie year has been, looking ahead to the 2021 Oscars and what effect the coronavirus might have on the awards show and the movies that get Oscars attention.
Read a full episode transcript here
My guest Omaya Jones is a movie podcaster at Film Quotes Film and the programmer of the Arkansas Times film series.
LINKS
CONNECT WITH US
Email us at Andrew@ArthouseGarage.com
Subscribe to the monthly email newsletter: arthousegarage.com/subscribe