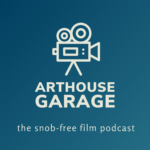 David Fincher is back with another dark and brooding drama, but this time he's looking at Hollywood history. In his latest film Mank, Fincher and his collaborators depict the writing of Citizen Kane by screenwriter Herman Mankiewicz, the relationships that inspired the story, and the behind the scenes drama. The film stars Gary Oldman, Amanda Seyfried, Charles Dance, Lily Collins and more.
Classic Hollywood genius Rance Collins returns to the podcast (after discussing Citizen Kane back in episode 24) to break down Mank and look at its politics, its history, and the technical decisions that went into its creation. We go pretty deep into film versus digital, and we also talk Oscars 2021.
Read a full episode transcript here.
LINKS
CONNECT WITH US
Email us at Andrew@ArthouseGarage.com
Subscribe to the monthly email newsletter: arthousegarage.com/subscribe