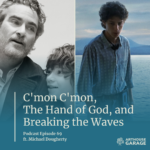 "Nobody knows what they're doing with these kids. You just have to keep doing it."
On today's episode, we've got a review of the new A24 film from director Mike Mills, C'mon C'mon, starring Joaquin Phoenix and Woody Norman.
After that, it's a review of the new on from Italian Director Paolo Sorrentino, which hits Netflix soon. It's called The Hand of God.
And to wrap up the show, Michael Dougherty joins for the next installment of our series on religious transformation, called The Art of Deconstruction: Faith, Doubt and Film. We talk about the 1997 Lars von Trier film Breaking the Waves, and things get….emotional. Don't miss that!
I also do a quick segment on the other films I've been watching, including:
Full episode transcript coming soon.
Links
Look Around – PSA directed by Michael Dougherty
Connect with Arthouse Garage
Email us at Andrew@ArthouseGarage.com
Subscribe to the email newsletter: arthousegarage.com/subscribe
Try Opopop popcorn! Get 10% off your first order
Theme music by Apauling Productions