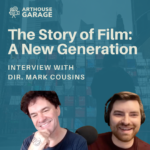 To see the video of this interview, visit Arthouse Garage on YouTube
Back in 2011, Filmmaker Mark Cousins brought us THE STORY OF FILM: AN ODYSSEY. Now he's returned with a follow-up, called THE STORY OF FILM: A NEW GENERATION.
I had the great pleasure of speaking with Mark about the new film, which hits theaters in limited release on September 9, and then VOD on September 20th.
For more information on the film, visit https://www.musicboxfilms.com/film/the-story-of-film-a-new-generation/
Connect with Arthouse Garage
Email us at Andrew@ArthouseGarage.com
Subscribe to the email newsletter: arthousegarage.com/subscribe
Try Opopop popcorn! Get 10% off your first order
Theme music by Apauling Productions