2019 has been a pretty great year for movies, making this list a difficult one to narrow down. There were some incredible titles that didn't make the cut (honorable mentions at the end of the list). 
But ultimately I think this list represents the year well and includes some heavy hitters as well as one or two that might have gone under your radar. You can consider their presence here a strong recommendation. 
Enough talk! Let's get to the movies themselves: 
If you go into Marriage Story without watching a trailer or reading a description, the irony of the title might not become apparent until after the film's warm opening montage, at which point you'll realize you're actually in for an emotional and wrenching story about divorce.
What writer/director Noah Baumbach gets right with this film is balance—this story is most compelling for the way it doesn't take a side. It shows two people (who are both pretty nice at the start of this film) with two different sets of priorities who get put through the legal and psychological ringer by our country's judicial system and the procedures in place around divorce cases. This setup provides juicy roles for the attorneys in the film, in particular for Laura Dern who plays the formidable Nora Fanshaw. She manages to be both awful and awe-inspiring in the same breath as she comforts Scarlett Johansson's Nicole.
Marriage Story doesn't judge its characters and maintains that sense of balance, but it does ultimately shortchange Johansson in terms of moments; this movie belongs to Adam Driver, whose character Charlie gets a handful of big, memorable scenes (read "Oscar moments") whereas Nicole is given pretty much equal screen time but less standout emotional beats. Driver makes the absolute most of each of these segments and it's incredible to watch, but it does serve to overshadow Johansson a bit, which is a script problem and not a performance problem—she's fantastic.
This movie stands out in 2019 and in Baumbach's filmography for the poignancy that leaps off the screen from the beginning. The process of divorce is quite emotional by its very nature, and Baumbach uses this to great effect in telling this well-crafted and haunting family story.
Memorable breakup stories were a bit of a trend this year, though this film from writer / director Ari Aster couldn't be more different than Marriage Story. Midsommar centers on Dani, played wonderfully by Florence Pugh, as she goes through…a lot. 
Her relationship with Christian (Jack Reynor) is rocky from the start, and when she suffers a horrific family tragedy in the film's opening, it becomes clear that Christian isn't up for the job of supporting her in her grief. All the same, she joins him and his friends for a trip to rural Sweden to experience a unique festival that's filled with awful surprises.
The film itself is one of the most stylish of the year. Aster is an incredibly visual storyteller, as was made clear with last year's Hereditary, but Midsommar is remarkable in that it feels at the opposite end of the visual spectrum from his previous film. Where Hereditary was dark and shadowy, Midsommar is perpetually bright due to the midnight sun of the Swedish setting, and this makes for a uniquely unsettling tone. Add to this a number of stunning shots of gruesome and appalling goings-on and you've got something truly unforgettable.
8. The Last Black Man in San Francisco
This film, the feature debut from director Joe Talbot, is a warm and meditative look at the city of San Francisco through a very particular set of eyes.
Jimmie (played by Jimmie Fails) and his friend Jonathan (Montgomery Allen) work to restore Jimmie's beautiful childhood home—though he can't afford to live there anymore due to the extreme gentrification of the neighborhood. Jimmie sneaks in and carries out home improvement projects whenever the owners are gone.
The plot thickens when the house falls vacant over a probate issue, but this movie has stuck around in my memory not for its plot machinations, which are relatively few, but rather for its tone, which is wholly unique, and for its impressive imagery. Much of this film takes place outdoors and the many shots of the streets, accompanied by the film's achingly beautiful score, make the urban setting feel bright and loving. The dynamic between the two lead characters is also fascinating to watch and wonderful to experience, even as they navigate conflict and personal crises. It's a film filled to the brim with love and it unsettled me with joy.
This whodunnit from director Rian Johnson takes a familiar formula and flips it on its head, to tremendous effect.
The family patriarch (Christopher Plummer) dies under mysterious circumstances, and seemingly everyone in the family has a motive. Southerner and "Gentleman Detective" Benoit Blanc, played by a spectacularly over-the-top Daniel Craig, shows up and gathers clues while the family bickers constantly.
There's something to be said for a movie that's just plain fun, and Johnson managed to capture a ton of it with this twisty and hilarious thriller. Much of that fun is found in the members of this film's enormous cast, all of whom turn in top-notch performances. My personal favorites are Toni Collette as the slightly ditsy daughter-in-law who runs a wellness company called Flam and Chris Evans, who sheds the nice-guy persona he earned over the years as Captain America and here plays the brash grandson who at one point gleefully and repeatedly tells his family members to "eat sh*t."
When I talk to friends and family about movies, I try to recommend things to them based on what I know about them (not everyone will enjoy a film like Midsommar after all). This means I have to be pretty selective at times, but I don't think I know a single person who wouldn't have a fantastic experience with Knives Out.
In many respects Booksmart treads familiar territory for a high school comedy. It has a large cast of characters, it features a night of partying, and it mines laughs from the universal awkwardness that comes from being a teenager.
What is uncommon about it is the remarkable friendship at the center of the story, which is so mutually affectionate and fun to watch that this movie's 102 minutes fly by. Best friends Amy (Kaitlyn Dever) and Molly (Beanie Feldstein) spent high school working hard for good grades only to discover that all of their classmates who slacked off got into good colleges too. So they decide to party for a change.
This is the first feature from director Olivia Wilde, and she shows off a keen ability to capture energy on the screen. Booksmart is incredibly vibrant from start to finish due in large part to its solidly hilarious performances across the board and its remarkable use of music. The soundtrack for this film features some 25 or 30 songs, almost all of which are pretty fast-paced. This results in a fun ride of a movie that depicts a close female friendship in a believable and loving way. In fact, "loving" might be the best word to describe Booksmart— Olivia Wilde clearly cares deeply for each of the film's characters, even and especially the most eccentric ones, and this adds up to a beautiful and life-affirming moviegoing experience.
This distinctive film features children in dangerous situations, naziism, fear mongering, war, and Adolf Hitler himself. It takes all of these elements and mixes them into one of the funnies comedies of the year.
Young Jojo (played infectiously by Roman Griffin Davis) is the most gung-ho of the Hitler Youth, so he's confused when he finds out his mother (Scarlett Johannson) is hiding a Jewish girl named Elsa (Thomasin McKenzie) in their wall. Oh, and whenever Jojo is upset he talks to his imaginary friend, Hitler.
In addition to adapting the screenplay and directing the film, Taika Waititi plays the film's very funny version of Hitler. Much like Booksmart, Jojo Rabbit is full of irresistible energy thanks to its performances as well as a number of smart directorial choices, like setting the opening credits over footage of nazi rallies with the German-language version of I Wanna Hold Your Hand by the Beatles blaring. The film does falter a bit in the final third as the shifts in tone from serious to goofy and back again don't always go smoothly, but it brings an incredible amount of warmth and an important message of inclusion in a remarkably creative and hilarious package.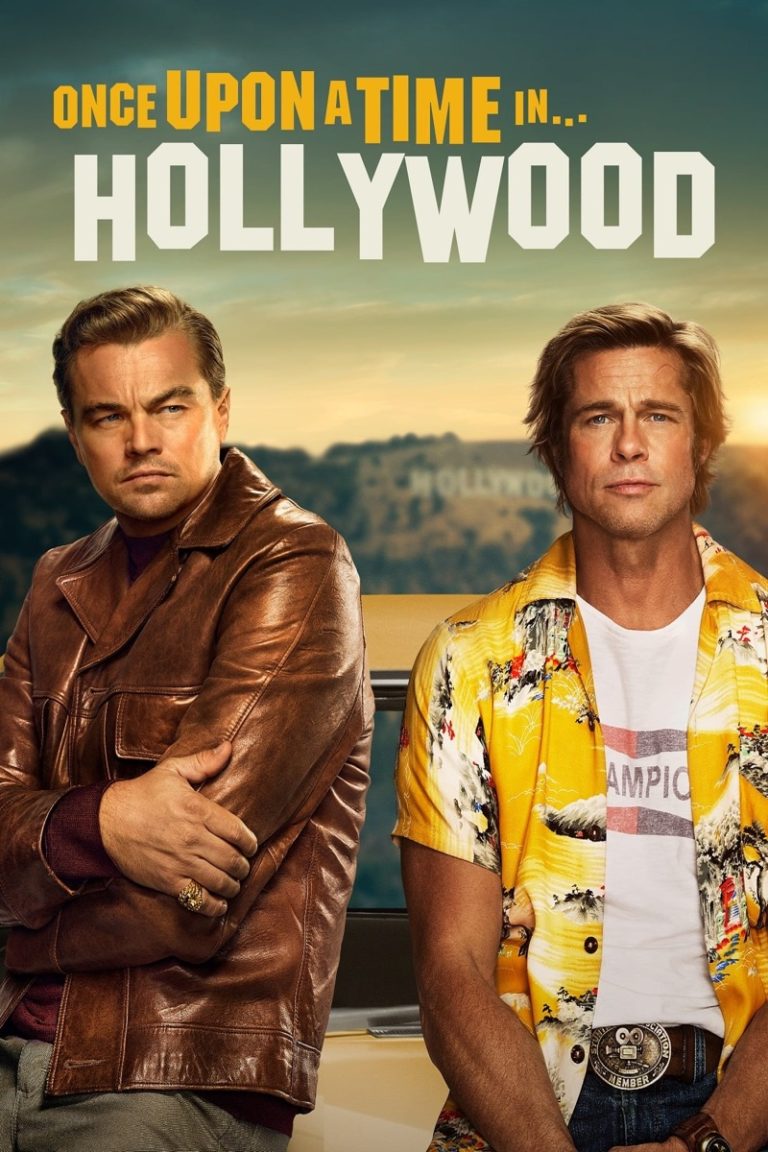 4. Once Upon a Time…in Hollywood
dir. by Quentin Tarantino
Quentin Tarantino is the probably ultimate cinema fanboy, and Once Upon a Time…In Hollywood is him letting loose his creativity in what is essentially fan fiction for 1960s LA.
Tarantino clearly had a lot of fun creating fictional tv shows and movies to throw Rick Dalton (Leonardo DiCaprio) into, and the dynamic between Rick and his longtime stunt double slash best friend Cliff Booth (Brad Pitt) is equal parts funny and heartwarming.
Once Upon a Time…In Hollywood is also unlike any other Tarantino movies for the slowness of its pace. In his previous films, there were small standout human moments amidst violent and hectic situations, but here the human moments take center stage. We get to watch Margot Robbie as Sharon Tate go to the movies and watch herself onscreen, marveling at the audience reaction. And we see Leo's Rick reconnect with his love for acting through a chance encounter with a child. It's by far Tarantino's sweetest film to date, reveling in its nostalgia and longing for a simpler and more innocent time. It's a joy to get swept up in.
dir. by Trey Edward Shults
Trey Edward Shults proved himself as a filmmaker-to-watch with his first feature effort Krisha, which told a family story by way of horror tropes and showed the ways that familial pain can run deep.
Now he revisits some of the same ideas but in a much bolder and more grand way with Waves, which tells a narrative in two halves. The first shows Tyler (Kelvin Harrison Jr.), an attractive and popular teen who has a girlfriend he loves and a bright athletic future ahead of him, as he navigates his complicated relationship with his father (Sterling K. Brown) and deals with a myriad of issues that begin to come up for him. The second half switches its focus onto his sister Emily (Taylor Russell) who is dealing with a crisis alongside her mother and father.
To say much more would spoil the movie, but this is an incredibly ambitious film in its style and its scope, and it largely works. The familial relationships feel absolutely real, fraught as they are at times, and the connections between these characters are as painful to watch when they splinter as they are beautiful in moments of healing. In Krisha, Shults showed things falling apart, and in Waves he explores what it might look like to start putting them back together. All of this takes place in a beautifully shot film with a soundtrack that is filled to the brim with modern indie rock and hip hop, making it  feel thoroughly modern as well as deeply emotional.
Bong Joon Ho has made something really special in Parasite, a story of two families: one rich, one poor.
The poor family lives at the lowest point in society, both figuratively and literally—their apartment is partially underground and their kitchen window looks out to the street at about eye level. Things change when the son Ki-woo (Choi Woo Shik) gets a job tutoring the daughter of the wealthy Park family.
What follows is full of surprises and manages to be shocking, horrifying, touching and thought-provoking in nearly equal measure, and it moves from plot point to plot point smoothly and organically, making this astonishing story feel absolutely real. Running through the film is the theme of wealth inequality; the story demonstrates in heartfelt ways how the rich fail to understand what life is like for the poor. From start to finish, Parasite is incredibly effective and hands-down the most thrilling movie of 2019.
Where Parasite thrills, The Farewell tugs at heartstrings. The setup itself has poignancy baked in—Billi (Awkwafina) goes with her family back to China to visit her grandmother, or Nai Nai (Shuzhen Zhao), who is dying of cancer, but doesn't know it.
The family has decided to keep the matriarch in the dark about her condition, believing it will help her to live longer if she doesn't have to face the despair of knowing about her life-threatening disease.
Writer/Director Lulu Wang takes that emotional framework and fills it with laughs and tears (though never cheaply), and also explores the cultural differences between East and West through several vivid and affecting conversations between Billi and her family. Awkwafina imbues Billi with an incredible amount of conflictedness, both about the big lie she's telling to her Nai Nai and about her own cultural identity. Her character is the perfect vessel for the audience to enter a Chinese home and learn about why they do what they do through loving eyes, and the result is a film that is thoroughly moving and filled with empathy. Add to all this my favorite musical moment of the year—a perfectly placed song in the soundtrack near the film's end— and you've got my #1 film of 2019.
Us (dir. by Jordan Peele) – no movie explored the effects of trauma more creatively this year. I'll be thinking about this one for years to come.
Frozen II (dir. by Chris Buck & Jennifer Lee) – I have a genuine and deep affection for this movie. Maybe it's because my kids have made me watch the first one about a hundred times, but I loved re-entering this world and I think it's a near perfect sequel. Plus it address mental health in a much more mature way than I expected.
Doctor Sleep (dir. by Mike Flanagan) – I thoroughly enjoyed my time with this one. I loved the redemptive arc for Danny and thought it extended the Kubrick's The Shining in exciting ways.
Uncut Gems (dir. by the Safdie Brothers) – another frenetic fever dream of a movie from the Safdie's, this time focused around a first-class performance from Adam Sandler. The style is in line with their previous work, but there is much more at play thematically than anything they've done before. It's one of the more memorable of the year for sure.
The Lighthouse (dir. by Robbert Eggers) – Pattinson and Dafoe are dazzlingly great in this salty tale of two stranded lighthouse keepers. Their anger and jealousy towards each other grows at roughly the same rate as their increasing madness, leading to an explosive ending with a haunting final shot.
The Irishman (dir. by Martin Scorsese) – epic in its scope and troubling in its final moments, The Irishman is a spectacular entry into Scorsese's crime stories.
Those are the official picks for Arthouse Garage's top 10 films of 2019. Agree or disagree? Let us know in the comments.